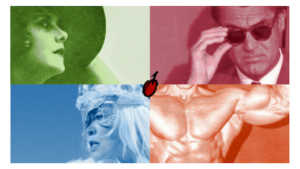 FOR IMMEDIATE RELEASE
THE CHERRY ARTS ANNOUNCES 2018-19 SEASON OF INNOVATIVE NEW LOCAL AND INTERNATIONAL THEATRE IN ITHACA
This weekend, the Cherry Arts, Ithaca's home for innovative performance, celebrated the announcement of its 2018-19 company productions, unveiling two "radically local" and two "radically global" works that the Cherry Arts Company will produce this coming year.
The Missing Chapter by Katie Marks & Aoise Stratford is a new "headphone walking play" based on Ithaca's silent film past, produced in collaboration with the Wharton Studio Museum and Friends of Stewart Park. It runs August 31–September 9. Audience members who participated in Storm Country, The Cherry's original headphone walking play, will recall the thrill of traversing Ithaca by foot while being immersed in a theatrical experience like no other. The Missing Chapter introduces audiences to Wharton Studio heroine Beatrice Fairfax, advice columnist for the lovelorn… and amateur sleuth. As Beatrice solves crime in the heady days of the women's suffrage movement, we stroll Stewart Park and investigate "missing chapters" in the history of our own community.
September 20–30 sees the English-language premiere of George Kaplan by Frédéric Sonntag, one of the most-produced plays to emerge from Europe this decade. George Kaplan is the fictional spy in Hitchcock's North by Northwest, and George Kaplan is at once a comedy, a spy thriller, and an investigation into the ways fictional narratives can infect political narrative, and even our concept of identity itself. George Kaplan has been produced throughout Europe and Latin America, and translated into a dozen languages. The Cherry Arts is thrilled to be presenting its English language première, in a translation by Cherry Artistic Director Sam Buggeln.
Next, Ithaca's unexpected and delightful holiday family favorite The Snow Queen returns for its third season, from December 13–22. Developed by the Cherry Arts ensemble, our original musical adaptation of this Hans Christian Andersen classic grows each year with new songs, new puppetry and fresh, imaginative theatrical magic. The Ithaca Times called The Snow Queen "A delightful performance… always inventive… dazzling… simply wonderful!" This year Scott Hitz of Pupphitz joins us as puppetry director, promising even more imaginative surprises. Families won't want their children to miss this mind-expanding adventure.
Our final Cherry Company production is Testosterone by Germany's Rebekka Kricheldorf, running from February 21–March 3, 2019. A darkly comic fable posing essential questions for today's moment, this outrageous comedy has seen productions in Germany, Argentina, Guatemala, Mexico, Colombia and Venezuela. The Cherry Arts presents the English-language première of this play that hilariously and unsparingly probes both toxic masculinity and the limits of liberal do-goodery in extreme times.
Artistic Director Buggeln says, "I couldn't be more excited to be embarking on this series of projects, bringing to life strong, innovative and irreverent theater voices from around the world and here in Ithaca. Our first year in the Artspace was a wild ride, and I can't wait to get started with the Cherry artists on our second!"
In addition to the Cherry Company productions, in 2018–19 as always the Cherry Artspace will host a wide range of excellent local artists and companies. These include two productions from Opera Ithaca, the return of the hit Crankie Cabaret from LilyPad Puppets, an aural and sculptural installation in collaboration with the Saltonstall Artists' Colony, a brand-new neo-vaudeville night Le Cerise Noir, our Pop'd at the Cherry dance parties, and much more.
This season, the Cherry is excited to announce a new Membership program, allowing patrons to become VIP members of the Cherry Arts family. Cherry Members receive early news of Artspace performances and events, reserved seats, free beverages, discounted Gala tickets, and invitations to exclusive social events like meet-and-greets with visiting international artists. Cherry Memberships can be obtained at TheCherry.org with a donation to our "perennial fund" of $75 or more.
The Cherry Artspace is Ithaca's home for innovative performance: a fresh and flexible waterfront venue that opened in September 2017 on Cherry Street on the Cayuga Inlet. From its base at the Artspace, the Cherry Arts, a company of local professional artists, creates productions that cannot be found anywhere else: world premieres, international plays in translation, inventive retellings of classic stories, and diverse art forms in fresh combinations. Click here to purchase tickets and click here to learn more about memberships.