by Iva Brdar | Serbia
Translated by Ana Brdar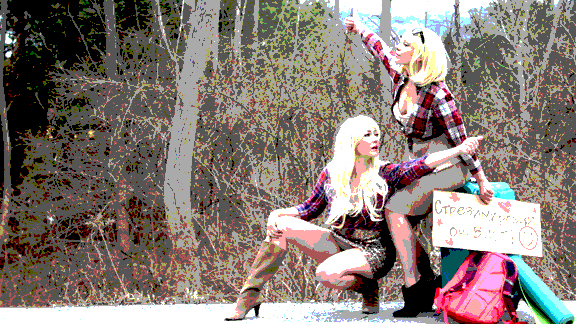 The WORLD PREMIÈRE of a new play from Serbia!
February 22 – March 4, 2018
RULE OF THUMB tells the story of Ana and Monika, two high-spirited young women from Sweden who enter a hitchhiking contest and find themselves on a series of peculiar, delightful, and unsettling rides through the borderlands of Serbia and Bulgaria. With quirky humor and tremendous heart, Rule of Thumb explores themes of class and cultural divide, as well as issues of economic and refugee migration from global and local perspectives.
Berlin-based Serbian Playwright/Screenwriter Iva Brdar has been described as "the lovechild of Caryl Churchill and Samuel Beckett – but funny." Her sister, writer Ana Brdar, translates. Rule of Thumb is shortlisted for two European playwriting competitions, and in April will get its European première at the Schauspiel Stuttgart. The Cherry Arts in Ithaca is thrilled to produce the play's world première!

Thur 2/22 @ 7:30pm, Fri 2/23 @ 7:30pm, Sat 2/24 @7:30pm, Sun 2/25 @ 3:00pm
Thur 3/1 @ 7:30pm, Fri 3/2 @ 7:30pm, Sat 3/3 @7:30pm, Sun 3/4 @ 3:00pm
Directed by Beth F. Milles
starring Helen T. Clark and Darcy Rose
with Lawrence Bierria, Sarah K. Chalmers*, Jeff Guyton*, Craig MacDonald*, Jacob Garrett White*
(*member, Actors' Equity Association)
"PAY WHAT YOU WILL" PREVIEW PERFORMANCE:  Thursday 2/22 @ 7:30pm