Rescheduled: Stay Tuned For More Information!
A multifaceted, awareness-based approach to accessing your wide and wild creative unconscious, and to incubating and embodying performance in art and everyday life.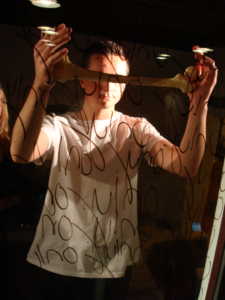 Leeny Sack is a performance artist, certified Master Teacher of Kinetic Awareness® and originator of The Performative Self™.
She has performed throughout the U.S., Europe and in Asia at venues including the Venice Biennale, The American Dance Festival, and the Whitney Museum of American Art. She has led workshops internationally and was on the faculty of New York University's Experimental Theatre Wing and Naropa University's MFA program in Contemporary Performance.
"She has reinvented forms both as pedagogy and as part of her investigative nature as an artist. Her interests represent an extraordinary synthesis of physical theater, a unique type of dramaturgy drawing on eastern nature of mind techniques related to meditation, the more radical traditions of western psychology, and a complete immersion in the American theatre experimental aesthetics."
– Wendell Beavers, Dancer and Educator; Founder, Naropa University's MFA Theatre: Contemporary Performance Program
"My work with Leeny cracked open a hole in my consciousness."
– Karl Gregory, Actor