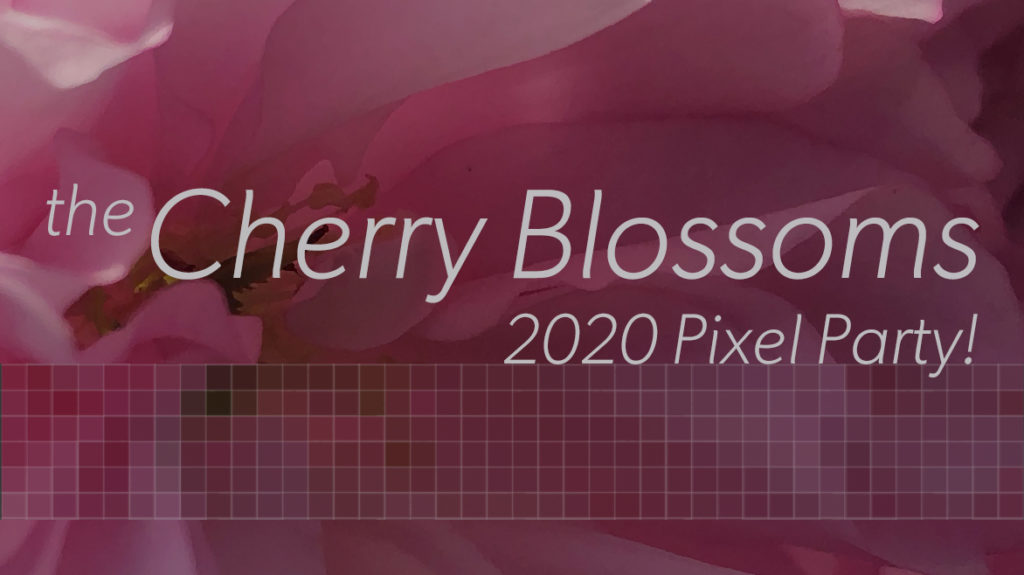 Join us and celebrate the power of crossing borders in the arts!
New this year! Everyone who donates to the campaign, from $5, is invited to attend the Cherry Blossoms 2020 Pixel Party on Sunday, June 7 at 4pm!
For the past three years every spring we've gathered for Ithaca's beloved kick-off to the summer season: the Cherry Blossoms Gala. It's a way to support and celebrate everything the Cherry Artspace brings to our community: from LilyPad's Saturday morning puppets for kids to Jay Leeming's world storytelling for grownups; from Ithaqua's fresh theater to Opera Ithaca's fresh opera to installations of sculpture, sound, and video; plus the fabulous dance party POP'd, the tawdry cabaret La Cerise Noire, and the international voices and exciting new theater forms of our very own Cherry Artists' Collective. Alas, COVID-19 has brought physical gatherings to a halt. But that can't stop the Cherry!
What the heck is a Pixel Party??
Wear your most festive summer party dress or your most elegant bathrobe! We're planning an hour or so of excellent entertainment, silly videos, scintillating conversation, and sneak peeks into the Cherry's exciting future. Join us to make a signature cocktail, a simple dessert, even a hat! We'll be playing, chatting, and taking a much-needed break to reach out and connect to one another. Here's a peek at some of the goofiness we were capable of in 2020:
Why should I help?
We're feeling great about the future and have some big ideas… but we're not going to lie to you. The loss of income due to COVID-19 has had a significant financial impact on the Cherry and we need your support. If you usually attend the gala at our standard $75 ticket, please consider giving more this year. And if this event has been out of your financial reach, excellent news! This year (and maybe every year? Hmm…) you can support us to the extent that's right for you and be a part of it all!
Hey what has the Cherry been up to in these COVID days?
The Cherry is proud to be one of the only companies in the US to keep producing work when COVID social-distanced us all. Our wild and woolly epic "live-stream fever dream" Felt Sad, Posted a Frog was co-written by six playwrights from around the world and became the surprise hit of the season, with audience members joining us from around the world and sending inspiring responses. Two weeks in a row we were named one of Time Out New York's "Best Live Theater to Stream Online". Not bad for a tiny experimental theater in Ithaca! If you missed it, here's a 90-second recap of the madness:
---
Gala Fundraising Total
We're aiming to raise $5,000. So far we've raised $1350. Thank you! Every donation helps us create the innovative work you've come to know and love.
$0
$5,000
---
Finally a special thank you to all of our generous 2019-2020 Season Sponsors! The Cherry Family Tree is always an inspiration.
If you have a business, why not add your name for 2020-21? It's more accessible than you might think. Just email info@thecherry.org and ask about sponsorship!